Compliance
Action Guideline
In accordance with "corporate ethics based on the corporate behavior charter and strict adherence to domestic and foreign laws, and international rules," we provide information and communication technology that is specific to the IT industry, openly disclose our corporate information proactively and fairly, and as a "good corporate citizen," we actively engage in activities that contribute to society.
Action Guideline
As a good corporate citizen, we contribute to the development of society by positively engaging in activities such as supporting culture and the arts, cooperate with local communities, participate in volunteer activities, and being of service to the international community.
To our stockholders and investors, we will disclose this company's financial details, business operation situation and management information according to pertinent regulations in a timely and accurate manner.
Always endeavoring to maintain a healthy work environment, we respect each employee's individuals rights and will never engage in any type of discriminatory action.
Action Goals
By responding accurately and appropriately to the needs of society, our clients and employees, and establishing a corporate base that engenders satisfaction and trust, we will improve our value as a socially responsible corporation.

Organization for Reporting and Consultation Services on Compliance
As the consultation and reporting interface concerning compliance, in addition to an internal contact point for reports, we have established a general consultation office for overall compliance.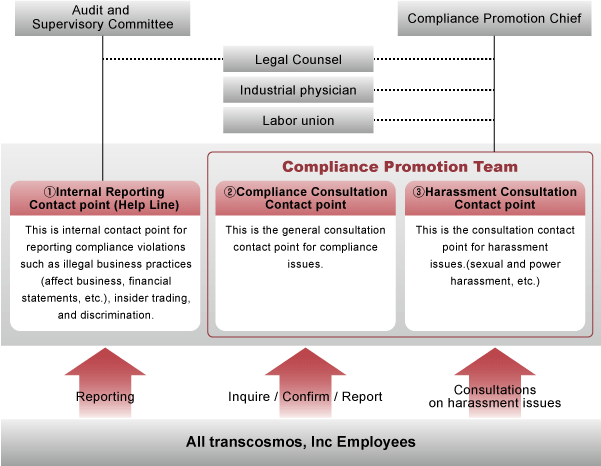 Compliance Implementation Structure (Chart)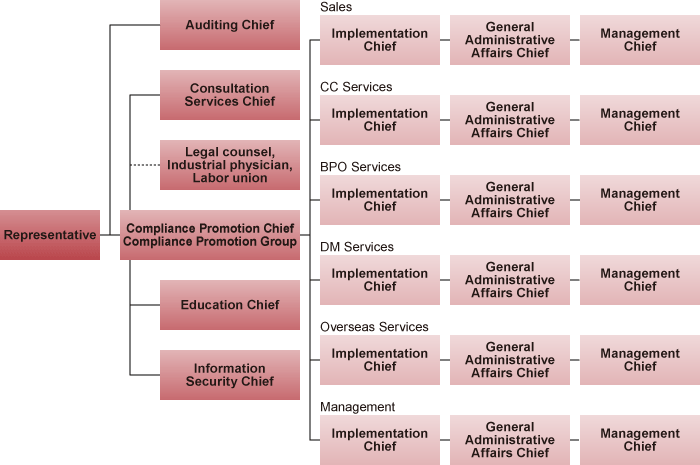 Private Information Protection Law and Privacy Mark
In recent years, the advancement of information technology has been nothing less than remarkable and this has enabled the easy and wide spread processing of large amounts of personal information. In today's advanced information society the importance of protecting private personal information has become obvious. As successive cases about security leaks on personal information held by various corporations are being reported, we at transcosmos have received the "Privacy Mark" certification because of our thorough control systems on the handling of client and employee private information.
We are Always looking to provide more secure and trustworthy services, we are constantly endeavoring to improve upon our security measures to protect your private information.
Acquisition of Privacy Mark Certification
transcosmos achieved certification for "Privacy Mark" on February 5, 2003
Please look here for our company's Private Information Protection policies.

Certification Number

11820183(09)

Certification Start Date

February 5, 2003 - (renewed every 2 years)

Certifying Agency

Japan Information Technology Services Industry Association (JISA)

Conferring Agency

Japan Institute for Promotion of Digital Economy and Community (JIPDEC)

Certified Private Information Protection Corporation

Japan Institute for Promotion of Digital Economy and Community (JIPDEC)
The Privacy Mark logo is conferred upon organizations that have been certified by a third party organization, the Japan Institute for Promotion of Digital Economy and Community (JIPDEC) or its specified agencies, which evaluate and certify that Japanese Industrial Standards "JISQ 15001 Private Information Protection Management Systems - Requirements" are maintained and that private information is being handled appropriately.