Environmental Activity
transcosmos's Environmental Efforts
In order to accommodate the green procurement requests of client companies, transcosmos has adopted the international standard "ISO14001" for environmental management systems at its corporate headquarters and its Osaka office, and we are working on environmental practices within our company and in our business activities.


Environmental Policies
Basic Policies
As a "global digital transformation partner" that supports the improvement of customer loyalty, expansion of sales and profits, and digitization of business processes for client companies, transcosmos contributes to the ongoing development of a sustainable society through initiatives to protect and preserve the environment.
In line with this kind of basic environmental philosophy, transcosmos achieves environmental management based on the following policies in areas such as business activities.
1. Regulatory Compliance
Observe regulations related to environmental conservation and other agreed items.
2. Promotion of Business with Concern for the Environment
We will promote the delivery of services that support advances such as the design of environmentally friendly business processes and the digitization of business processes.
3. Continuing Environmental Enhancement
Set goals and promote continuing enhancement with an environmental management system.
4. Prevention of Environmental Pollution
We will strive to reduce impact on the environment through efforts such as waste reduction and strive to actively employ products and services that effectively utilize recyclable resources.
5. Promotion of Energy and Resource Conservation
Pursue resource conservation, energy conservation and reuse of materials, striving to build a recycling society.
6. Publicity and Disclosure of Environmental Policies
Make these policies known among our employees and disclose them internally and externally to ensure good communication.


Registration Information

JQA-EM6671
Certification Standards
ISO 14001:2015 / JIS Q 14001:2015
Certificate Number
JQA-EM6671
Organization
transcosmos inc.
Registration Date
March 11, 2011
Last Renewal Date
February 18, 2017
Expiry Date
February 17, 2020
Certification body
Japan Quality Assurance Organization (JQA)
Associated Organization
Main Office
Osaka Head Office


Environmental Management System (Enhancement System)
Each organization within the company is pursuing environmental enhancement through formulation of environmental enhancement systems, and with environmental load-reducing measures related to their respective business characteristics.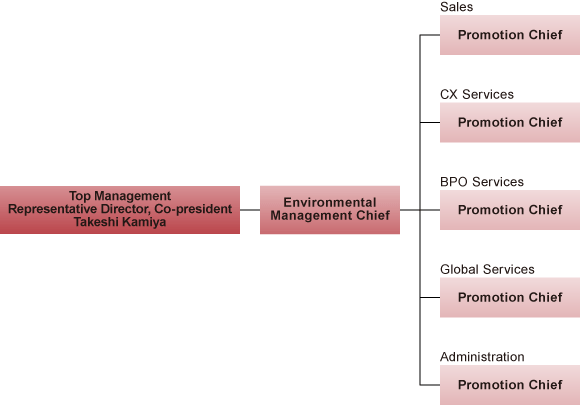 Principle Efforts

Introducing "GREEN POWER" by purchasing GREEN POWER Certification


Contributing to CO2 emission reduction by using natural energy power for 1st, 2nd and 13th floor at Shibuya headquarters (150,000kWh) since April, 2013

Environmental Goals and Objectives


In order to further enhance its environmental cooperation, We have set the objectives and goals to operate its business activities with the global environmental management systems.
See Details

Environmental Objectives of Each Group


We set the environmental objectives and targets in the each department to achieve with PDCA system.
See Details

Environmental activities in the transcosmos businesses


We consistently contribute to environmental activities among our businesses, such as the provision of environmentally friendly services and cooperation with our clients that conduct the activities.

Eco-cap Campaign


We support Ecocap through sensible handling of plastic bottle caps.
See Details

Employee Education


We are raising the environmental consciousness of employees through e-learning activities and transmission of information in a company newsletter, etc.
See Details

Environmental Data


We work on substantial environmental conservation activities by researching and managing the various resources and discharged substances in the business activities.
See Details

Support for Conservation Activity of Okinawa Rail


We support the conservation of Okinawa rail as one of our environmental activities in Okinawa.
See Details