Job Development for Disabled Persons
Job Development for Disabled Persons
"Regardless of disabilities, all employees can work together and each display their individuality and abilities."
At transcosmos, we believe that is the proper way to conduct business.
We hold the belief that a company is a place where people with differing personalities and attributes come together, and that this diversity cultivates an excellent corporate culture.
Up until now, many persons with various disabilities, such as hearing and visual impairments, arm and leg handicaps and internal disorders, have come to work at our company, and they are making a significant contribution at all work locations. In addition, we are making proactive efforts throughout the company to create mechanisms for supporting employees with disabilities.


Administrative Work (Staff Services)
As staff for transcosmos, they are engaged in work utilizing various operational tools in most departments of the organization, including HR, accounting and finance, PR and business administration.
For example, there is a wide range of success in areas such as payroll and social insurance administration, back office administration of recruiting activities, management of organization and group contact administration, and compliance implementation management.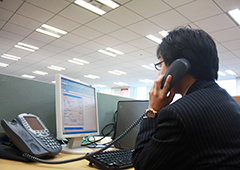 Operating Conditions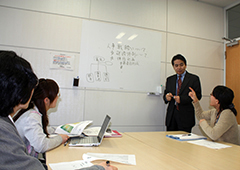 Meeting


Service Work (Listing Ad Operation Services)
They are present in special departments of "listing advertising (search linked advertising)" which forms the core of the Internet promotion services provided by transcosmos. They have responsibility for a wide range of operations for customers in a variety of fields, including the "confirmation of advertising budget assimilation status", "analysis of various types of data and preparation of results reports", and also "submissions and bidding of keywords".
When newly assuming responsibility for given operations, training programs are prepared for each service description, and after participating in the training course, they engage in the work as a team member. In the future we continue to promote deployment of these personnel resources in service operations which have a close connection with our client companies.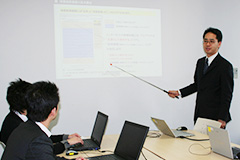 Training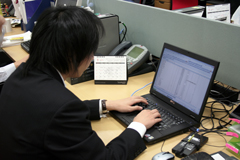 Operating Conditions


Technical Work (Website Production Services)
A website production team formed around a core of persons with disabilities is performing planning, production and operation work in areas such as the transcosmos home page, company intranet and the home pages of affiliated companies. Training programs are also arranged for inexperienced people.
As a new business model, we have achieved personnel deployment into areas that can even be considered the core business of our company by organizing them as specialized units possessing high level technical skills.


Support Staff
We have been working to develop work environments that enable employees with disabilities to work at ease.
Professional staff including sign language interpreters, mental health workers and social welfare workers are employed to support employees with disabilities.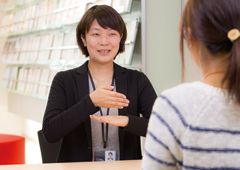 Sign language interpretation support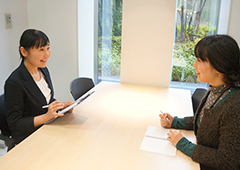 Consultation support


Special Subsidiary (transcosmos assist inc.)
As a special subsidiary company, they receive and are responding to various work requests from each department within transcosmos. Not limited to conventional administrative assistance work, they are implementing other work including the issuance of employee ID cards, editing operations such as survey input and data summation using PCs, text conversion of recorded data from sources like meetings and presentations, and also operational support that can only be performed by IT service enterprises.
Administrative assistance work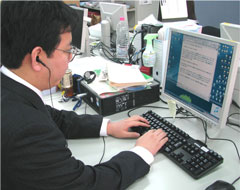 Texting conversion of recorded data


Other Activities
Our company and our special subsidiary have employees who actively compete at international and national competitions. They have excellent capabilities in a wide range of fields, such as skills they have learned in business and sports they have been developing since they were students. We support those employees making an effort in such activities.
Abilympics (Skills competition featuring persons with disabilities)
●The 37th National Abilympics: 2 gold prize awards
Two of our employees were awarded the Gold Prize and the Minister of Health, Labour and Welfare Award at the 37th National Abilympics (National Skills Competition), in which 365 participants competed from November 17 through 19th, 2017.
(Learn more)
< Webpage Competition >
‐ the Gold Prize & the Minister of Health, Labour and Welfare Award: Ayaka Miyamoto (Normalization Promotions Department, Administrations Division, Corporate Management Sector)
< Database Competition >
- the Gold Prize & the Minister of Health, Labour and Welfare Award: Kento Tanahashi (transcosmos assist inc.)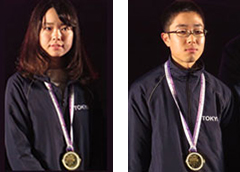 ●Awards Achieved in the Past Competitions
Name of Competitions
Results
Skill Categories
Gold Prize Award
Silver Prize Award
Bronze Prize Award
Effort Prize Award
The 15th Tokyo Abilympics
7 Awards
Desktop Publishing
Creating Web Pages
Data Processing
The 14th Tokyo Abilympics
5 Awards
Desktop Publishing
Creating Web Pages
Text Processing
The 13th Tokyo Abilympics
4 Awards
Desktop Publishing
Word Processing
Abilympics 2010
1 Award
Text Processing