PDF


transcosmos Wins "Office Environment Award" in "Contact Center Award 2016"
Recognized for creating a relaxing space, capitalizing on Okinawa's local characteristics
November 21, 2016
transcosmos inc.
transcosmos inc. (Headquarters: Tokyo, Japan; President and COO: Masataka Okuda; TSE First Section: 9715; hereafter, transcosmos) received "Office Environment Award", an award for contact center which is equipped with superior facilities and systems, in "Contact Center Award 2016" sponsored by Call Center JAPAN Editorial Department, RIC TELECOM CO.,Ltd.
The Contact Center Award is an annual award program for the contact center operators to present their initiatives and achievements of the year in order to achieve mutual improvement (visit the website from: http://www.cc-award.com/). The "Office Environment Award" was established in 2013 to recognize superior office designs and buildings that create employee-friendly environment, facilities that are committed to realize harmony with local community and environment, as well as the ones equipped with advanced IT and security systems with the aim to instill the values of those initiatives in the society.
transcosmos applied for "The 2nd Office Environment Award 2016", presenting the initiatives worked on "Marketing Chain Management Center Naha Kencho-mae" (hereafter, MCM Center Naha Kencho-mae), the company's contact center service base in Okinawa prefecture, and won the award in the award ceremony session held on November 18 for creating a relaxing, comfortable space by leveraging Okinawa's distinctive culture.
Opened in October 2015, MCM Center Naha Kencho-mae created pleasant working environment especially for women, paying detailed attention to the space while leveraging Okinawa's local characteristics such as naming each floor in "Uchinaaguchi", the Okinawan language, as well as setting lady's powder room, under the leadership of a female project manager. The center also provides kid's space in its Work Café, the café for job seekers, to enable all applicants to bring their children.
<Work Café><TINGARA Café><Operation Floor>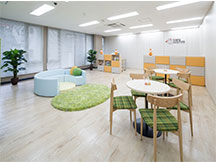 Award Ceremony on November 18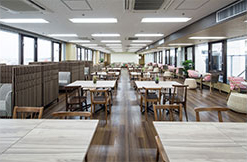 From left:
Mr. Nozomu Arai
Manager, Creative Design Sec.
Space Design & Solution Dept.
KOKUYO Co., Ltd.
Naoko Sakugawa
Human Resources Development Group, Service Management Unit, Contact Center Services Okinawa Division, Digital Marketing, E-commerce, Contact Center Headquarters, transcosmos inc.
transcosmos continues to deliver qualified services to its client companies through creating friendly work environment for all employees to secure stable staffing while driving job creation to contribute to the local community revitalization and development.
Related Services
* transcosmos is a trademark or registered trademark of transcosmos inc. in Japan and other countries.
* Other company names and product or service names used here are trademarks or registered trademarks of respective companies.
About transcosmos inc.
transcosmos launched its operations in 1966. Since then we have combined superior "people" with up-to-date "technology" to enhance the competitive strength of our client companies by providing them with superior and valuable services. transcosmos currently offers Cost Reduction Services (contact center, back-office service for HR/Financial/Sales depts., order management and SCM, system development & operation etc.) and Sales Expansion Services (big data analysis, internet advertising, developing & operating website, smartphone/SNS utilization, telemarketing etc.). transcosmos continues to pursue Operational Excellence by providing these services through our 164 locations in 29 countries with a focus in Asia. Furthermore, following the expansion of e-commerce market on the global scale, transcosmos provides a comprehensive One-Stop Global E-Commerce Services to deliver our clients companies' excellent products and services to consumers in 46 countries around the globe. transcosmos aims to be the "Global BPO Partner" of our client companies, providing them with high quality BPO services on a global scale.