PDF


Magic Panda, a transcosmos group company, wins 2018 NEW ONLINE BUSINESS Service Provider Award by Alibaba Group
Highly recognized for its capabilities in marketing, multi-channel operations, customer analysis and service innovation
February 20, 2019
transcosmos inc.
Shandong Ya Nuoda E-Commerce Co., Ltd. (Headquarters: Jinan City, Shandong Province, China; Representative: Selina Dong; commonly known as Nengmao Studio; Magic Panda (URL: http://www.nengmao.net/en/home.html)), a Chinese e-commerce service provider specializing in the apparel industry and a group company of transcosmos inc. (Headquarters: Tokyo, Japan; President and COO: Masataka Okuda) received the 2018 NEW ONLINE BUSINESS Service Provider Award at the "2018 annual e-commerce entrepreneurship summit", an event hosted by Alibaba Group on December 16 and 17, 2018. The event was livestreamed on Alibaba Group's official media "Global E-businessmen".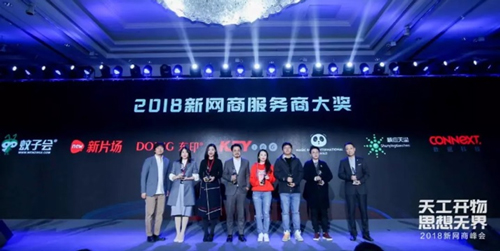 At the "2018 annual e-commerce entrepreneurship summit," Alibaba Group evaluated its service providers that support the NEW ONLINE BUSINESS based on multiple criteria such as their marketing capabilities, multi-channel operations capabilities, customer analysis and service innovation capabilities. Among the seven award winners, Magic Panda won the 2018 NEW ONLINE BUSINESS Service Provider Award.
Magic Panda has been the hidden champion behind the success of nearly hundreds of fashion apparel and lifestyle brands in China's e-commerce marketplace since it opened its door in 2005, including Saks Fifth Avenue, Barneys New York, ADASTRIA, MONNIER Frères, Urban Outfitters, Free People, Miki House, Line Friends and Stadium Goods. Today, more than 400 professionals in strategy, merchandise, design, marketing, operations and after-sales service are leading the company's e-commerce service with a sharp focus on the fashion apparel category.
Magic Panda helps famous international brands make a successful entry into the Chinese market by proposing a business model which suits the Chinese market by revising their conventional wholesaler-retailer market entry strategy to an e-commerce to retailer model. Working in the best interests of brands, Magic Panda will continue to grow as the most trusted, professional hidden champion of the e-commerce services industry in China.
Related Services
*transcosmos is a trademark or registered trademark of transcosmos inc. in Japan and other countries.
*Other company names and product or service names used here are trademarks or registered trademarks of respective companies.
About transcosmos inc.
transcosmos launched its operations in 1966. Since then, we have combined superior "people" with up-to-date "technology" to enhance the competitive strength of our clients by providing them with superior and valuable services. transcosmos currently offers services that support clients' business processes focusing on both sales expansion and cost optimization through our 170 locations across 31 countries with a focus on Asia, while continuously pursuing Operational Excellence. Furthermore, following the expansion of e-commerce market on the global scale, transcosmos provides a comprehensive One-Stop Global E-Commerce Services to deliver our clients' excellent products and services to consumers in 49 countries around the globe. transcosmos aims to be the "Global Digital Transformation Partner" of our clients, supporting the clients' transformation by leveraging digital technology, responding to the ever-changing business environment.