PDF



Magic Panda and UNQ, transcosmos group companies, honored BEST TMG PARTNER AWARD OF FY2019 by "T-Mall Global," China's leading e-commerce platform
In the event with nearly 1,800 partners across the globe, 25 winners presented under 2 categories
April 16, 2019
transcosmos inc.
transcosmos inc. (Headquarters: Tokyo, Japan; President and COO: Masataka Okuda) is honored to announce that its two Chinese group companies won the "BEST TMG PARTNER AWARD OF FY2019," under respective categories at "TG1000 T-mall Global 2019 Global Partners Summit." The summit was organized by "T-Mall Global," the leading e-commerce platform in China, on March 21, 2019, at Alibaba headquarters in Hangzhou, China.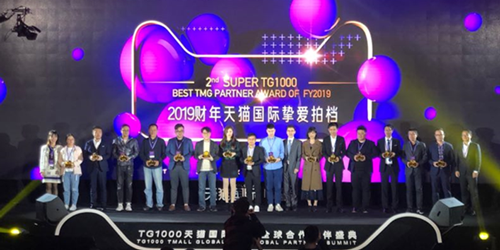 "BEST TMG PARTNER AWARD OF FY2019" is an award program open to all T-Mall Global partners that provide services for brands operating on T-Mall. Under the program, T-Mall Global awards selected partners that have achieved outstanding results in categories that include marketing, multi-channel operations and service innovation.
BEST TMG PARTNER AWARD OF FY2019 (TP):Magic Panda
Among the 15 winners under the T-Mall Partner (TP) category, Shandong Ya Nuoda E-Commerce Co., Ltd. (Headquarters: Jinan City, Shandong Province, China; Representative: Selina Dong; commonly known as Nengmao Studio; Magic Panda; URL: http://www.nengmao.net/en/home.html), a Chinese e-commerce service provider specializing in the apparel industry, received the "BEST TMG PARTNER AWARD OF FY2019 (TP)." Magic Panda has been the hidden champion behind the success of nearly hundreds of fashion apparel and lifestyle brands in China's e-commerce marketplace since it opened its door in 2005. Today, more than 400 professionals in strategy, merchandise, design, marketing, operations and after-sales service are leading the company's e-commerce service with a sharp focus on the fashion apparel category.
BEST TMG PARTNER AWARD OF FY2019 (Supplier): UNQ
Among the 10 winners under the Supplier category, Shanghai SPOT, a member of UNQ group (Headquarters: Shanghai, China; CEO & Founder: Wang Yong), a leading e-commerce distributor specializing in cosmetics, personal care and food, received the "BEST TMG PARTNER AWARD OF FY2019 (Supplier)."
Highly recognized by Alibaba for its various achievements including an outstanding record in e-commerce distribution services and the number of brands it serve, UNQ excels in driving wholesale distribution and sale of cosmetics and personal care products to online retailers. Building on its proven results, UNQ helps Japanese brands enter the Chinese market via both cross-border e-commerce and traditional trading.

<Winner announcement: Magic Panda>

<Winner announcement: UNQ>
transcosmos group helps clients make a successful entry into the Chinese market by proposing a business model which suits the Chinese market.
Working in the best interests of brands, both Magic Panda and UNQ will continue to grow as the most trusted, professional hidden champions of the e-commerce services industry in China.
Related Services
*transcosmos is a trademark or registered trademark of transcosmos inc. in Japan and other countries.
*Other company names and product or service names used here are trademarks or registered trademarks of respective companies.
About transcosmos inc.
transcosmos launched its operations in 1966. Since then, we have combined superior "people" with up-to-date "technology" to enhance the competitive strength of our clients by providing them with superior and valuable services. transcosmos currently offers services that support clients' business processes focusing on both sales expansion and cost optimization through our 171 locations across 31 countries with a focus on Asia, while continuously pursuing Operational Excellence. Furthermore, following the expansion of e-commerce market on the global scale, transcosmos provides a comprehensive One-Stop Global E-Commerce services to deliver our clients' excellent products and services in 49 countries around the globe. transcosmos aims to be the "Global Digital Transformation Partner" of our clients, supporting the clients' transformation by leveraging digital technology, responding to the ever-changing business environment.