PDF





transcosmos China won "Intelligent Business Innovation Award" by Ebrun
Highly recognized by a prominent e-commerce Chinese media company for its intelligent business model and service philosophy
January 15, 2018
transcosmos inc.
Shanghai transcosmos Marketing Services Co., Ltd. (Headquarters: Shanghai, China; CEO: Eijiro Yamashita; transcosmos China), a wholly-owned subsidiary of transcosmos inc. (Headquarters: Tokyo, Japan; President and COO: Masataka Okuda), was awarded the "Intelligent Business Innovation Award" for its intelligent business model and service philosophy at the "2017 Ebrun Future Retail Convention" hosted by Ebrun, a major e-commerce news media company in China.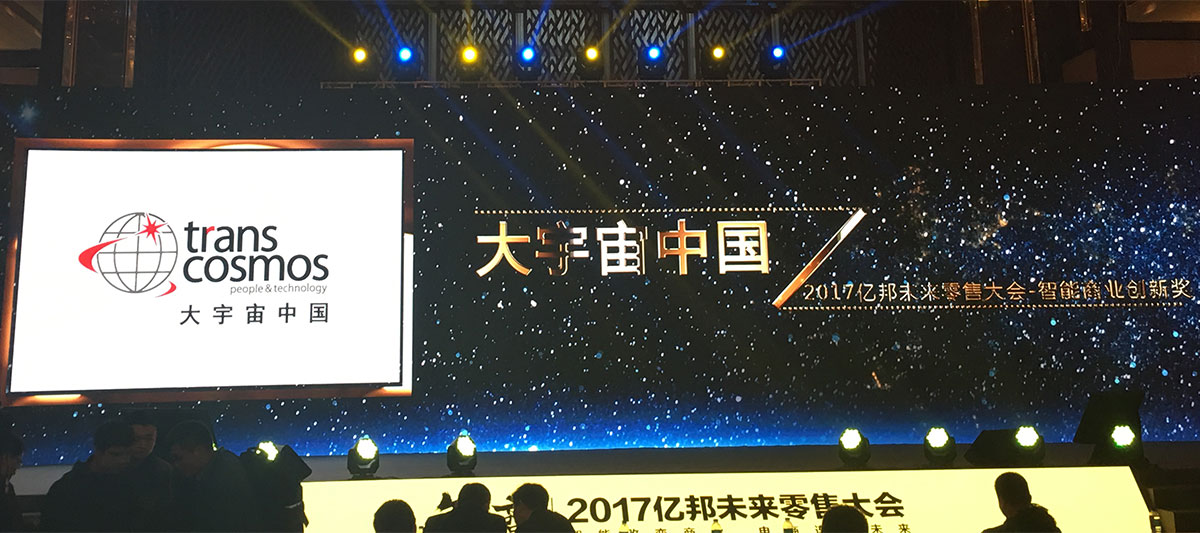 Under the theme of "Intelligence and Business", the 2017 Ebrun Future Retail Convention was held from December 20th to 22nd, 2017. The convention advocates the slogan "Intelligence changes business and e-commerce leads the future of the retail business". Leaders including retail industry experts, scholars and leading e-commerce company executives gathered in Guangzhou and discussed the future path of the retail industry.
With the emergence of artificial intelligence and the concept of "New Retail", the global e-commerce business is going through a new growth path. In order to keep up with the times, e-commerce businesses are seeking ways to innovate their business models in various ways. As a global BPO player with a 51-year history, transcosmos continues to evolve and innovate its services. Now, transcosmos develops and offers new technologies and services including "DataRobot", a machine learning automation platform, "AI Copywriter KOTOBA TAKUMI" (beta version) which excels at infeed ads, and DEC (Digital marketing + E-commerce + Contact center) total solution services, as well as establishing an AI laboratory "Communication Science Lab", to name a few.
transcosmos has also been working on service innovation in China. Since August 2017, transcosmos has been introducing "Dianxiaomi", an Alibaba's intelligent customer service robot, to brand stores on TMALL. Making "Dianxiaomi" serve customers on behalf of human customer service agents, clients can improve support efficiency and service quality whilst reducing costs. Through continuous optimization of its official and custom knowledgebase and data tracking, "Dianxiaomi" significantly improved its support accuracy and showcased its capability on 2017 Single's Day (W11). The average solution rate of "Dianxiaomi" surpassed 60%, and for apparel stores the ratio achieved was over 75%, and as a result, "Dianxiaomi" successfully avoided customer losses that occur due to delayed response during peak support hours. What's more, the service reduced customer support costs by over 50% and received high remarks from clients.
In the award ceremony held on December 21, 2017, Jackie Ding, Director of Operations of E-Commerce Business Division at transcosmos China received the "Intelligent Business Innovation Award" by Ebrun.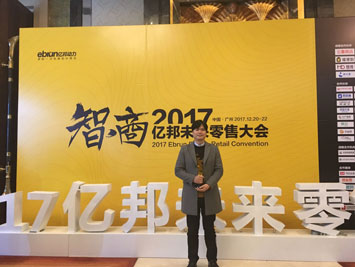 Award Ceremony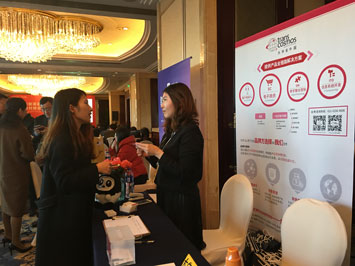 transcosmos China booth at the "Siilu Global E-Commerce Channel & Service Docking Special Venue"
Since its entry to China in 1995, transcosmos continued to achieve drastic business growth and currently has 26 offices across 13 cities in China. In the e-commerce sector, transcosmos provides one-stop services ranging from e-commerce website development and operation, fulfillment (ROG, picking, packing and shipping), customer care, website sales promotion, to data analysis and more. The company also offers outsourcing services including call centers, system development, BPO and digital marketing.
As a leading global BPO company, transcosmos continues to deliver integrated services that help clients expand sales whilst reducing costs.
Related Services
*transcosmos is a trademark or registered trademark of transcosmos inc. in Japan and other countries.
*Other company names and product or service names used here are trademarks or registered trademarks of respective companies.
About transcosmos inc.
transcosmos launched its operations in 1966. Since then, we have combined superior "people" with up-to-date "technology" to enhance the competitive strength of our clients by providing them with superior and valuable services. transcosmos currently offers services that support clients' business processes focusing on both sales expansion and cost reduction through our 177 locations across 33 countries with a focus on Asia, while continuously pursuing Operational Excellence. Furthermore, following the expansion of e-commerce market on the global scale, transcosmos provides a comprehensive One-Stop Global E-Commerce Services to deliver our clients' excellent products and services to consumers in 49 countries around the globe. transcosmos aims to be the "Global Digital Transformation Partner" of our clients, supporting the clients' transformation by leveraging digital technology, responding to the ever-changing business environment.