PDF
transcosmos receives N-PIKA certification under Nagasaki prefecture's program for recognizing companies that work on creating a pleasant workplace for all
Creating an employee-friendly workplace focusing on work-childcare/family life balance, workstyle reform and promoting women's career advancement/gender equality
February 28, 2023
transcosmos inc.
transcosmos inc. (Representative Director, Co-presidents: Koichi Iwami, Masaaki Muta) is proud to announce that the company has received N-PIKA certification at its BPO Center Nagasaki, under Nagasaki prefecture's program that certifies companies that are making efforts in creating and offering a pleasant workplace for all.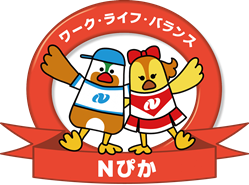 Nagasaki prefecture certifies companies located in the prefecture that are proactively working on creating a comfortable workplace for all regardless of age and gender as excellent companies. Within the certified companies, ones with an aggregated score of 50% or higher for 50 items under three categories are named N-PIKA, or Shining companies in Nagasaki. The three categories are 1) work and child care/family life balance, 2) workstyle reform and 3) promotion of women's career advancement/gender equality.
Under its corporate message – Global Digital Transformation Partner – transcosmos believes that human assets are the source for its continuous value creation, which drives transcosmos's business growth. As a certified N-PIKA company, transcosmos will continue to offer employees a pleasant place to work by carrying out initiatives that will enable employees to have and raise children without job-related concerns, offer family caregiver leave, promote diverse workstyle arrangements, promote women in leadership roles, and more.
transcosmos has been active in creating employee-friendly workplaces. transcosmos BPO Center Sasebo became a Sasebo City - Business Office with a Declaration on Supporting Women's Active Participation and Advancement in the Workplace in March 2020, and BPO Center Nagasaki and BPO Center Nagasaki Chuo both were certified as a 2021 Nagasaki City DANJYO IKIKI KIGYO – a Gender-Inclusive, Fulfilling Workplace – by Nagasaki city in November 2021.
transcosmos is committed to create and offer a workplace where each and every employee can actively showcase their full potential while contributing to the revitalization and development of local communities by creating more job opportunities.
Related Services
* transcosmos is a trademark or registered trademark of transcosmos inc. in Japan and other countries.
* Other company names and product or service names used here are trademarks or registered trademarks of respective companies.
About transcosmos inc.
transcosmos launched its operations in 1966. Since then, we have combined superior "people" with up-to-date "technology" to enhance the competitive strength of our clients by providing them with superior and valuable services. transcosmos currently offers services that support clients' business processes focusing on both sales expansion and cost optimization through our 172 bases across 28 countries/regions with a focus on Asia, while continuously pursuing Operational Excellence. Furthermore, following the expansion of e-commerce market on the global scale, transcosmos provides a comprehensive One-Stop Global E-Commerce Services to deliver our clients' excellent products and services to consumers in 46 countries/regions around the globe. transcosmos aims to be the "Global Digital Transformation Partner" of our clients, supporting the clients' transformation by leveraging digital technology, responding to the ever-changing business environment.