PDF


transcosmos won the "Customer Case Study Contribution" award by Works Mobile
Recognized for offering various case studies based on its track record in "LINE WORKS" implementations
February 5, 2018
transcosmos inc.
transcosmos inc. (Headquarters: Tokyo, Japan; President and COO: Masataka Okuda) was awarded the "Customer Case Study Contribution" at the partner conference at "LINE WORKS DAY" hosted by Works Mobile Japan Co., Ltd. (Headquarters: Tokyo, Japan; President & CEO: Yutaka Ishiguro; Works Mobile) on February 2, 2018.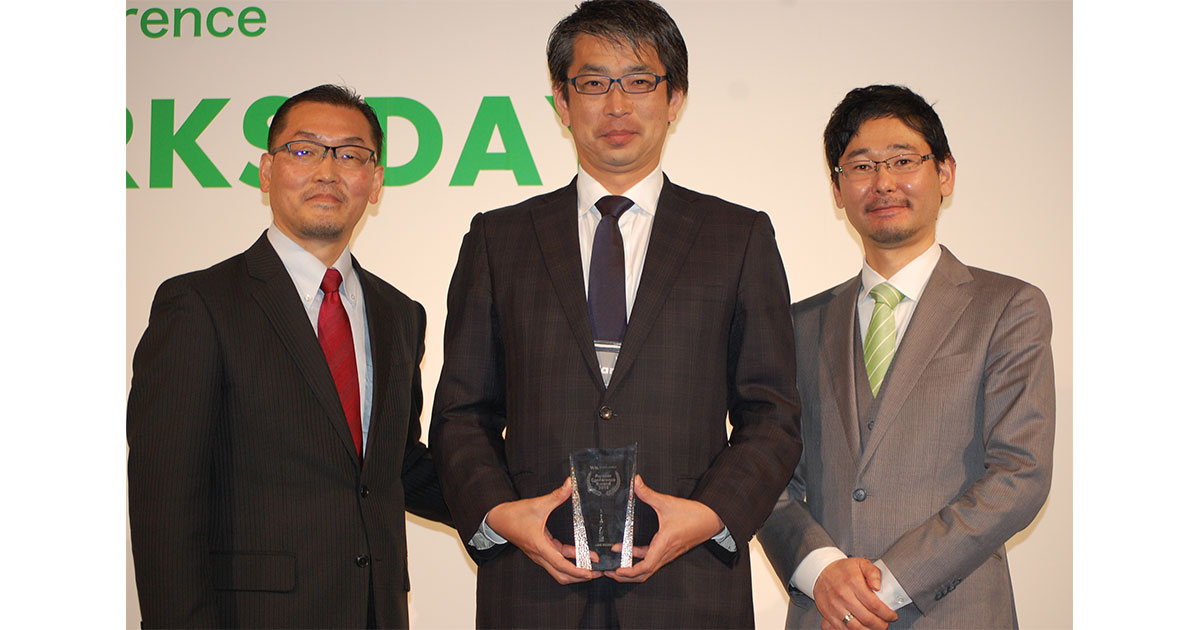 From Left:

Mr. Yutaka Ishiguro, President & CEO at Works Mobile Japan Co., Ltd.
Masanobu Tsuji, Department Manager of Innovation Quick-Promotion Department,
Service Coordinate Administration, Business Promotion Div., BPOS Headquarters at transcosmos
Mr. Yoshihiro Iwase, Seinor Manager of Sales Team/Partner Sales at Works Mobile Japan Co., Ltd.
"LINE WORKS", a secure and reliable chat tool for business purposes offered by Works Mobile is the business messenger connected with LINE and its user-friendly features. At the partner conference which aims at expanding sales of "LINE WORKS" and its solutions as well as forming new service alliances, transcosmos received the "Consumer Case Study Contribution" award for offering various case studies to clients based on its track record in implementing "LINE WORKS".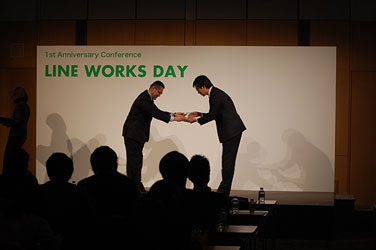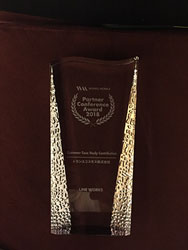 Since becoming a "LINE WORKS" sales partner in January 2016, transcosmos has been promoting "LINE WORKS" as a highly secure and usable business tool for clients, whilst helping clients improve their business efficiency and productivity with its BPO services in combination with "LINE WORKS". In 2017, transcosmos was named "Platinum Certified Partner" for the "Works Mobile Japan Partner Certification Program" for offering optimum proposals, support and solutions for "LINE WORKS", and contributing to clients in achieving workstyle reform by boosting their work efficiency and productivity.
transcosmos continues to support clients to strengthen their competitiveness, building on its proven record and know-how in providing "LINE WORKS" and other related services.
Visit transcosmos LINE WORKS implementation case studies here:
Related Services
*transcosmos is a trademark or registered trademark of transcosmos inc. in Japan and other countries.
*Other company names and product or service names used here are trademarks or registered trademarks of respective companies.
About transcosmos inc.
transcosmos launched its operations in 1966. Since then, we have combined superior "people" with up-to-date "technology" to enhance the competitive strength of our clients by providing them with superior and valuable services. transcosmos currently offers services that support clients' business processes focusing on both sales expansion and cost reduction through our 170 locations across 33 countries with a focus on Asia, while continuously pursuing Operational Excellence. Furthermore, following the expansion of e-commerce market on the global scale, transcosmos provides a comprehensive One-Stop Global E-Commerce Services to deliver our clients' excellent products and services to consumers in 49 countries around the globe. transcosmos aims to be the "Global Digital Transformation Partner" of our clients, supporting the clients' transformation by leveraging digital technology, responding to the ever-changing business environment.