PDF
TOBISHIMA CORPORATION will develop a new construction management framework by leveraging transcosmos BPO services
Aims to increase productivity at construction sites by 10% by fiscal year 2023
January 24, 2020
TOBISHIMA CORPORATION
transcosmos inc.
TOBISHIMA CORPORATION (Headquarters: Tokyo, Japan; President: Masahiro Norikyo; Tobishima Corporation) will develop a new construction management framework by utilizing business process outsourcing (BPO) services by transcosmos inc. (Headquarters: Tokyo, Japan; President and COO: Masataka Okuda).
The Revised Labor Standards Act is scheduled to take effect in the construction industry in 2024 at a time when the industry is facing a pressing challenge to address long working hours caused by an ever mounting workload due to the vibrant market condition coupled with a shortage of construction workers. Tobishima Corporation has been driving digitalization with the use of information technology (IT) tools to streamline construction work processes, thereby reducing the workload. However, the company only saw a limited result from such initiatives owning to several challenges. Specifically, the ways in which each site uses the tools are not consistent and there have been some discrepancies between the new and traditional work processes.
To achieve the goals to implement a construction management system that reflects the actual construction plans and the work progress at sites and to centralize all construction management information, Tobishima Corporation will develop optimal workflow and a stable operations framework that integrates digital technologies and manual operations by utilizing "to Construction BPO services" by transcosmos in each management item, namely, "Quality," "Cost," "Delivery," "Safety" and "Environment" (QCDSE).
As a first step, Tobishima Corporation will create an environment where each construction site can concentrate on their core work such as construction planning and on-site check by separating associated data management tasks from the core work. The company will deliver timely data processing following the plan and actual work progress at each site by consolidating all data management tasks that have been conducted at each site to transcosmos BPO center through the use of a cloud service. By doing so, Tobishima Corporation will leverage each site's construction management data as company-wide common data. In addition, Tobishima Corporation will centralize all information by standardizing report formats, tools and processing methods that currently differ from site to site, thereby increasing efficiency.
With the aim of increasing productivity by 10% at construction sites by 2023 by increasing efficiency, Tobishima Corporation will further streamline its business processes, and ultimately drive workstyle reform in the construction industry.
【Services scheme】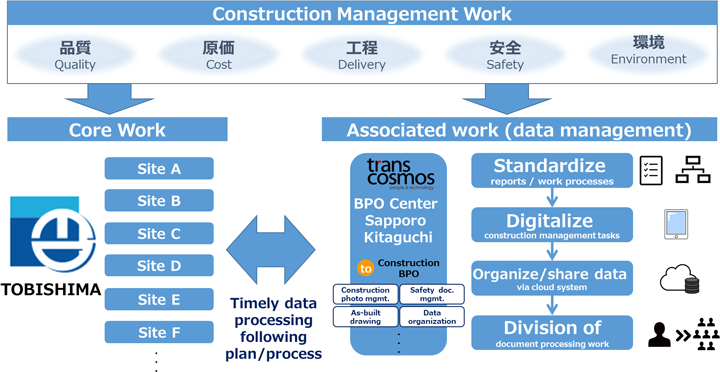 Related Services
*transcosmos is a trademark or registered trademark of transcosmos inc. In Japan and other countries.
*Other company names and product or services names used here are trademarks or registered trademarks of respective companies.
About TOBISHIMA CORPORATION
Ever since it was contracted for the demolition of Fukui castle in 1883, Tobishima Corporation has contributed to the economic development of Japan through its involvement in civil infrastructure works. Under the "Rita-Riko," or Compassion & Self-Interest spirit of our founder Bunkichi Tobishima, we have been pursuing customer satisfaction through sincere support and integrity. At the same time, we have been committed to our business, putting our wisdom together, while taking responsibility and pride in developing social infrastructure. We will aim to form a platform called New Business Contractor for the creation of a new society alongside a variety of people by expanding the area of our construction business to identify a range of latent needs in society as well as unsolved problems, and develop many businesses with the ability to solve them (i.e. a smart solution service).
About transcosmos inc.
transcosmos launched its operations in 1966. Since then, we have combined superior "people" with up-to-date "technology" to enhance the competitive strength of our clients by providing them with superior and valuable services. transcosmos currently offers services that support clients' business processes focusing on both sales expansion and cost optimization through our 168 bases across 30 countries/regions with a focus on Asia, while continuously pursuing Operational Excellence. Furthermore, following the expansion of e-commerce market on the global scale, transcosmos provides a comprehensive One-Stop Global E-Commerce services to deliver our clients' excellent products and services in 48 countries/regions around the globe. transcosmos aims to be the "Global Digital Transformation Partner" of our clients, supporting the clients' transformation by leveraging digital technology, responding to the ever-changing business environment.
Contacts for this news release
Kazumasa Matsuo Public Relations Office, Corporate Planning Division, TOBISHIMA CORPORATION
Tel: +81-3-6455-8312
Public Relations & Advertising Department, transcosmos inc.
Mail: pressroom@trans-cosmos.co.jp
Contact for technology / brochures
Kiyoshi Kuwabara / Naoki Matsumoto Construction Department, TOBISHIMA CORPORATION
Tel: +81-3-6455-8346