PDF
transcosmos signed partnership agreement with dbE, company with NLP technology that detects subtle discrepancies between master production document and application form used in the pharmaceutical industry
Now delivers "rodanius for Pharma," dbE's innovative solution that streamlines inspection tasks and prevents dependency on personal skills and human errors
July 3, 2020
transcosmos inc.
transcosmos inc. (Headquarters: Tokyo, Japan; President & COO: Masataka Okuda) hereby announces that the company has signed a partnership agreement with dbE., Inc. (Headquarters: Osaka, Japan; Founder & CEO: Msanori Takahashi). With this new partnership, transcosmos will begin offering "rodanius for Pharma," their innovative solution designed specifically for the pharmaceutical industry where an extensive amount of visual inspection tasks remain the norm. The solution helps pharmaceutical companies readily detect discrepancies between the master document and a GMP inspection application form, streamline inspection process, and prevent dependency on personal skills and human errors.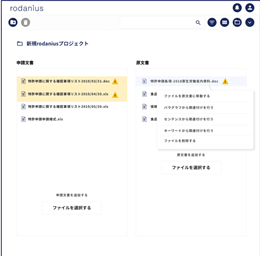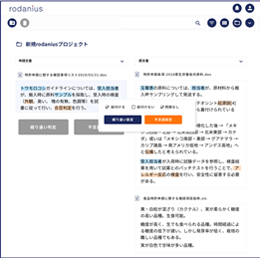 ■ About document matching & true-false judgement technologies
"rodanius for Pharma" is a solution that detects writing mistakes, missing or omission of words, and information errors owing to differences in used units and expressions between the two differing types of documents with the use of natural language processing (NLP) technology. A series of master documents developed during drug manufacturing processes in the pharmaceutical industry contain as many as hundreds of pages, and describe the manufacturing process in detail whereas the application form only contains a brief summary of the main points. Due to the huge difference in information volume each document contains, it has been quite a challenge to find errors in the application form with the traditionally available NLP technology.
"rodanius framework," an analytics platform developed by dbE is equipped with various existing analytics technologies (document vectorization methods: word2vec doc2vec, TF/IDF, LSA, LDA, BERT and more, judgement methods: z-score, sine transformation, regression, random forest, SVM, naïve bayes, deep learning and more) as well as dbE's proprietary AI which is equipped with knowledge to automatically configure the best combination of algorithms for the creation of structured documents, vectorization and judgement according to the data being used. The solution enabled the pharmaceutical companies to suitably combine logics that have not been used traditionally in NLP, and algorithms that are not generally used, thereby conducting an ideal analysis. Ultimately, the solution helped the industry identify any discrepancy in the two different documents that were otherwise difficult owing to the enormous difference in information volume.
dbE has already conducted proof-of-concept (POC) of "rodanius for Pharma" with many major pharmaceutical companies using the companies' real documents used in their drag manufacturing process. The solution has received high praise for its high level of accuracy that can be fully utilized in their business process. As of today (May 2020), there is no alternative solution to this product in the pharmaceutical industry.
■ transcosmos and dbE plan to create new industry specific solutions
transcosmos not only sells "rodanius for Pharma" to the pharmaceutical industry but also delivers the solution together with its digital transformation services, thereby solving operational challenges that the industry faces and creating new businesses.
In order to address the changes in, and growing demands for the pharmaceutical industry amid the coronavirus crisis, transcosmos and dbE will offer digital marketing promotions, e-commerce sales and customer support services for consumers.
In partnership with dbE, transcosmos will proactively develop and deliver new services to all industries by making the most of NLP technologies that each company owns. As a first step, the two companies have already kicked off a project to create a solution that auto-generates FAQs based on an enormous amount of manuals.
About dbE., Inc.
Founded in May, 2015, based on its outstanding knowledge and technologies for utilizing data, dbE provides a wide range of products and services that assist businesses in making the most of their data. By combining AI-powered products and data utilization platforms, dbE offers diverse types of DX solutions including "rodanius," an AI framework product for converting natural language into structured data that can be used for search and analytics, and "PreRobo," a proprietary data management preparation software equipped with data processing features. Visit us here (Japanese only): https://d-be.co.jp/
Related Services
* transcosmos is a trademark or registered trademark of transcosmos inc. In Japan and other countries.
* Other company names and product or services names used here are trademarks or registered trademarks of respective companies.
About transcosmos inc.
transcosmos launched its operations in 1966. Since then, we have combined superior "people" with up-to-date "technology" to enhance the competitive strength of our clients by providing them with superior and valuable services. transcosmos currently offers services that support clients' business processes focusing on both sales expansion and cost optimization through our 168 bases across 30 countries/regions with a focus on Asia, while continuously pursuing Operational Excellence. Furthermore, following the expansion of e-commerce market on the global scale, transcosmos provides a comprehensive One-Stop Global E-Commerce services to deliver our clients' excellent products and services in 48 countries/regions around the globe. transcosmos aims to be the "Global Digital Transformation Partner" of our clients, supporting the clients' transformation by leveraging digital technology, responding to the ever-changing business environment.