Support clients' global expansion

Services for Europe & the United States and Latin America Market
transcosmos provides our clients that operate across the globe with e-commerce one-stop services and contact center services, all localized for each market.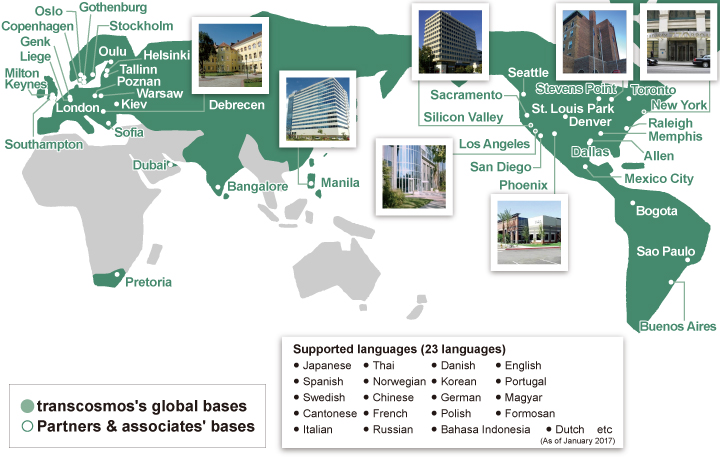 E-Commerce One-Stop Services
Provide strong support for e-commerce expansion in the Europe and the United States market
Formed capital and business partnership with "PFSweb," the largest company in e-commerce one-stop services industry in the United States, listed in NASDAQ. In addition to providing fulfillment service with its own warehouse and back-office services such as customer support and payment processing, the company provides one-stop services for clients' e-commerce expansion with wide range of services from creating e-commerce systems to operation. The total working space is approximately 193,000 square meters, equivalent of approximately 4.1 times the size of Tokyo Dome, which boasts the largest seating capacity in Japan
Formed a capital and business partnership with "VAIMO," a Swedish e-commerce system solutions company with a track record in developing over 400 corporate e-commerce websites on Magento, a world-standard open e-commerce platform.
Formed a capital and business partnership with "Infracommerce," a company which offers e-commerce one-stop services in Latin America, in addition to providing store opening support on Latin America's largest e-commerce retailer "Mercado Libre," "Amazon.com.mx," and "amazon.com.br."
Download catalogue

Contact Center Services
Guarantee quality contact center operations equivalent to that of Japan
Provide contact center services via multi-channel
Provide multi-language services in the United States, the Philippines, Hungary and the United Kingdom
* Including services provided by our affiliates
Offer varieties of delivery options according to the needs of clients. The services include bridge operation for business design and operational management, utilizing our English and Japanese bilingual staff
Offer services for Europe and the United States from our offshore base in Manila
Established "transcosmos OmniConnect," following the purchase of a call center business, a subsidiary of Berkshire Hathaway (US).
|
|
|
Europe & the United States and Latin America Market
|