Deliver contact center services that optimize and maximize the value of customer experience

Contact Center Services
As customer behavior and mindset continues to diversify, contact center customer services become ever more critical. transcosmos helps clients build and operate strategic contact centers that support dialogue with their customers via various communication channels.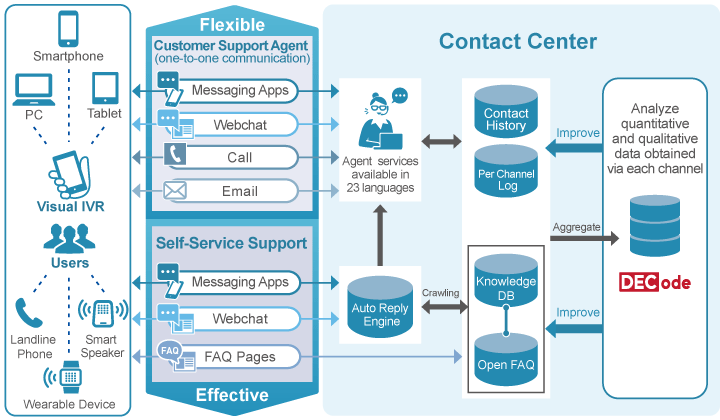 Digital Communication Services
Support diversified channels
Offer non-voice services for smartphone users on top of traditional contact center services to support diverse, essential channels
Chat operators and chat-bots offer non-voice services
Help clients increase sales and boost customer satisfaction
Contact Center Consulting Services
Support designing contact centers that meet the business objectives
Visualize contact center's missions and identify challenges
Rebuild and create ideal contact centers by developing improvement plans
Develop and apply quality management criteria and the cycle
Platform Services
Support implementation and operation of communication channels
Contact center platform which supports customer communication
Global Contact Center Services
Provide services in China, South Korea, ASEAN, Europe and the U.S.
Provide high quality contact center services across the globe by utilizing our accumulated know-how
Support 23 languages with 68 bases and 28,000 workstations in Japan and abroad
Provide multi-language contact center services for increasing foreign visitors to Japan by leveraging bases in Japan and abroad
"Call to LINE", "LINE to Call" – two features of LINE Customer Connect
Seamlessly connects call to LINE
"LINE to Call" enables users to make a free call with just one click on "LINE" or when they visit a company website, which will automatically connect them to IP phones.
With "Call to LINE", IVR (Interactive Voice Response) or operators can send messages to users' LINE accounts and invite them to "LINE" chat support based on their mobile numbers.
Delivers a call-chat hybrid customer support service via "LINE".