Maximizing the value of social media

Social Media Services
transcosmos experts in various service domains that include consulting, planning & creation, marketing promotion, operation & monitoring and research & analysis work as a team to help clients make the most of social media.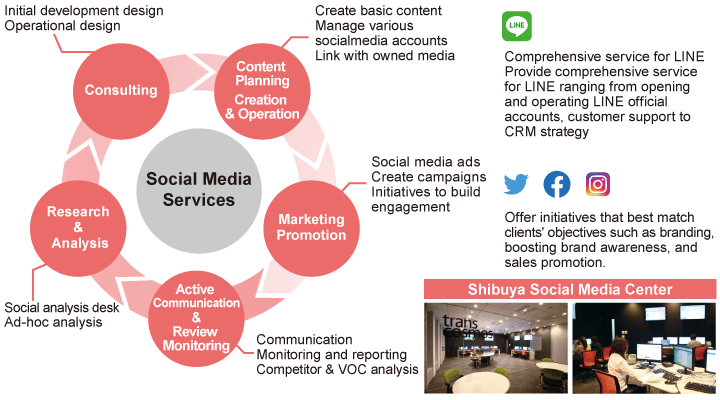 Consulting Services
Create total solutions to leverage social media
Support clients in opening various media accounts, designing communication strategy and developing documents and guidelines to help clients meet their objectives in social media.
Propose, execute and evaluate the performance of social media marketing plans that are aimed at expanding client's fan base, all in one go
Content Creation and Operations Services
Content planning, creation, and operations services
Effectively deliver valuable information on social media by writing attractive content that maximizes the power of social media accounts whilst offering the optimum creative content for each media. Plan, create, and operate content according to the needs of clients.
Marketing and Promotion Support Services
Provide comprehensive support ranging from promotion planning to performance evaluation
Deliver highly sophisticated operations services by utilizing Facebook insights.
Our "social gear Ads+" delivers and optimizes Facebook ads for clients

The social listening capabilities of "Sprinklr," an integrated social management platform, improves Twitter ad operations by collecting and analyzing Twitter data
Active Communication and Review Monitoring
Operate content to build close communication with fans
Our dedicated facilitators post information that include selling points to boost fan engagement
Collect keywords on Twitter, actively communicate with fans and expand the power of positive word-of-mouth
Provide graphic reports by benchmarking the clients' performance against competitors
Research and Analysis Services
Analyze big data and leverage the findings for marketing
Design rules for collecting Voice Of Customer (VOC) data from social media and perform text mining
Mine customer and POS data, analyze websites and SNS access logs, perform text mining on VOC as needed, and integrate the results
Report the results of analysis and encourage clients to utilize the findings and the PDCA model for future improvements