Environmental Initiatives
In an effort to comply with our clients' green supply chain requirements, our Tokyo main office and Osaka head office both have obtained "ISO14001" certification, which is the international standard for environmental management systems. With those certificates in place, transcosmos will continue with our effort to maintain our environmental activities throughout our business operations both within and outside of the organization.
Environmental Policy
Basic Policy
As the "Global Digital Transformation Partner" who assists clients in increasing their customer loyalty, expanding sales and profits, and their digital business transformation, transcosmos engages in environmental protection and conservation initiatives. We are committed to contributing to the continued development of a sustainable society.
In an effort to adhere to such fundamental environmental principles, transcosmos engages in environmental management initiatives based on the following business policies in our business activities and practices:
1. Regulatory Compliance


We will comply with all laws, regulations and other requirements related to environmental protection.

2. Promotion of Green Businesses


We will promote our services that help design and digitalize green business processes.

3. Continuous Environmental Improvement


We will set environmental goals and promote continuous improvement of the environment through our environmental management system.

4. Environment Pollution Prevention


To avoid having a negative impact on the environment, we will proactively deploy products and services that utilize recycled resources in an effort to reduce waste.

5. Promotion of Energy and Resource Conservation


We will seek to create a recycling-based society by reducing, reusing and recycling energy and resources.

6. Full-publication and Disclosure of our Environmental Policy


We will ensure that our employees are fully aware of these policies, and make our environmental policy available to the public, as well as maintain communication with the public.
Registration Information

JQA-EM6671
Certification Standards
ISO 14001:2015/JIS Q 14001:2015
Certificate Number
JQA-EM6671
Organization
transcosmos inc.
Registration Date
March 11, 2011
Last Renewal Date
February 18, 2020
Last Revision Date
December 3, 2021
Expiry Date
February 17, 2023
Certification body
Japan Quality Assurance Organization (JQA)
Associated Organization
Headquarters
Osaka Head Office
Environmental Management System (Enhancement System)
Each organization within the company is pursuing environmental enhancement through formulation of environmental enhancement systems, and with environmental load-reducing measures related to their respective business characteristics.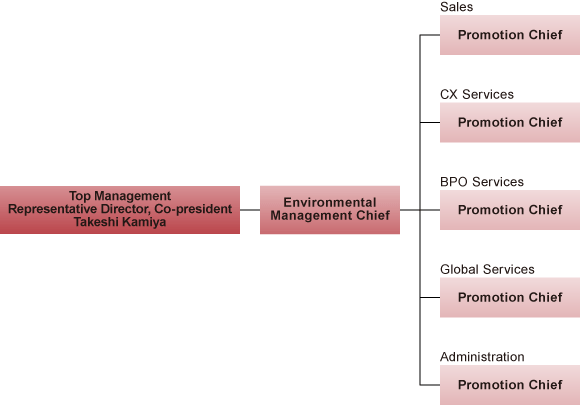 Environmental Management Systems (EMS Implementation & Enhancement Scheme)
At transcosmos, as an initiative to improve the environment, each business function has set up its own system to reduce the negative cost to the environment arising from the nature of its business.
Key Initiatives
Environmental Goals


We have established our corporate goals that aim to retain and improve the global environment whilst propelling our business activities through the adequate use of environmental management system.
Visit here for more information

Environmental Goals by Function


Each business function runs the Plan-Do-Check-Act (PDCA) cycle to achieve their respective environmental goals.
Visit here for more information

Environmental Improvement through Business Activities


We are committed to be an environmentally friendly business. In particular, we have been taking part in business activities that would lead to better environment, including environmentally-friendly services and assistance to our clients' environmental initiatives.

Eco-Cap Movement (send used plastic bottle caps to NPO ECOCAP)


We collect and send used plastic bottle caps to ECOCAP, a Japanese non-profit organization.
Visit here for more information

Employee Education


We have been raising environmental awareness among our employees through e-learning programs and internal newsletters, etc.
Visit here for more information

Environmental Data


We have also been engaging in environmental conservation activities by keeping up to date with and managing the current status of various environmental data on the amount of resources consumed and emissions from our business activities.
Visit here for more information

Beach Cleanup Activity


We are involved in beach cleanup activities to protect and conserve the environment.
Visit here for more information (Japanese only)

Okinawa Rail Protection


As one of our environmental conservation initiatives, we take part in Okinawa Rail (Gallirallus okinawae) Protection activities.
Visit here for more information

Paper recycling with "PaperLab"


We have implemented "PaperLab," a papermaking system developed by Epson that turns waste paper into new paper. By reducing paper purchasing volume, we are striving to reduce the environmental burden.
Visit here for more information (Japanese only)