Compliance
Compliance Behavior Policy
We continue to provide IT specialized information and communication technologies, in compliance with the "Charter of Corporate Behavior*" to engage in fair disclosure of information on our corporate activities and proactively implement social contribution activities as a respectable corporate citizen.
*The Carter of Corporate Behavior asks to comply with the letter and spirit of the relevant domestic and international laws and regulations and international rules, and to fulfill their social responsibility with a strong sense of ethical values.
Compliance Codes of Conduct
As a respectable corporate citizen, we are committed to contribute to the development of our society. To that end, we will continue to carry out a variety of activities that include the promotion of culture and arts, cooperation with local communities, participation in volunteering, and making a contribution to the international society.
In compliance with the relevant laws and regulations, we will disclose to our shareholders, investors and all other stakeholders our management information, including financial standings and the status of our business activities in an appropriate and timely manner.
We will endeavor to maintain a safe and healthy workplace, respect everyone's human rights, and never engage in discriminatory conduct of any kind.
Compliance Behavior Goals
With the ultimate goal of increasing our value as a socially responsible company, we will always meet the needs of our society, clients and employees, thereby establishing a business foundation that is trusted and relied on by all.

Compliance Point of Contact for Reporting & Consultation
In addition to a whistleblowing helpline, we have a workplace harassment hotline and a general compliance hotline for our employees to report and consult on their compliance-related concerns.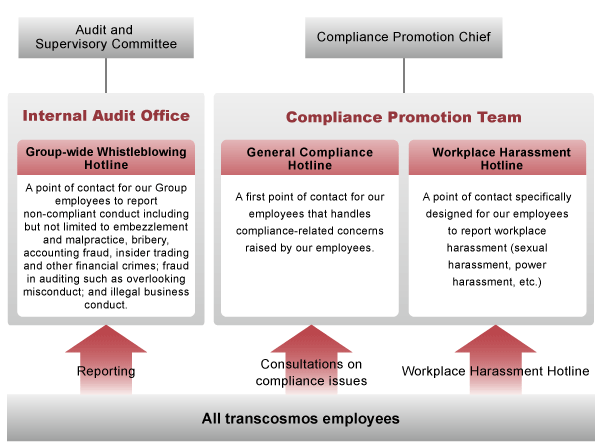 Compliance Promotion Framework (Org Chart)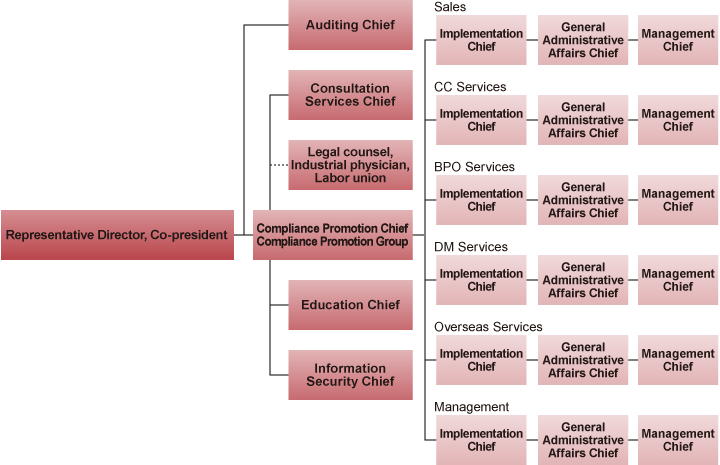 Initiatives for Fair Business Conduct
■ transcosmos Business Ethics
Not only have we been making sure that our business conduct is compliant with the laws and regulations of Japan and foreign countries, but we are also reminded ourselves that we must conduct ourselves with respect for the social code of ethics. For example, to be a respectable corporate citizen, we proactively involve ourselves in CSR activities in an effort to contribute to social development and engage in various environmental conservation initiatives. We also avoid being involved in political funding or donation, or carrying out election campaigns or political activities without carefully considering the necessity and relevance of such activities, and if we decide to proceed with those activities, we make sure that our conduct follows the legitimate procedure and is in accordance with the relevant laws and regulations. By equipping ourselves with the basic legal knowledge, having a sense of justice and fully appreciating the social norm, we prevent ourselves from contravening the laws and regulations or involving with anti-social forces. Our conduct must be carried out in a socially acceptable manner. And we will not involve ourselves with anti-social forces or groups and never submit to any demand made by them.
To put the above into practice, we use training programs and periodically published materials in an effort to encourage our employees to improve and uphold their sense of business ethics and to make them fully aware of those ethics. Our top management is constantly reviewing and developing internal systems in order to make the systems work effectively so that our business ethics are permeated throughout the organization.
■ Fair Competition & Trading
・Compliance with the Antimonopoly Act and the Subcontracting Act
We compete in a fair and open manner, avoiding any conduct that might suggest violation of the anti-monopoly act such as bid-rigging, cartel activities and abuse of a superior bargaining power. We always deal with our suppliers with a degree of decency and integrity, and treat all of our suppliers and business partners equally and fairly. We make sure that none of the potential suppliers and business partners who go through our supplier and partner selection process are given any preferential treatment, and our business with those suppliers and partners is always with a degree of decency and integrity in accordance with the relevant laws and regulations.
・Protection Against Unfair Competition and Gifts & Entertainment Policy
We strictly prohibit misappropriation or use of any trade secret of other companies through unlawful means such as stealing and acquisition or use of such information knowing or constructively knowing that the information has been or has likely to have been obtained by unlawful means. We also prohibit entertainment for and gifts to civil servants or persons with a similar status. If we are to entertain our business partners or exchange gifts with them, we have the rule that the value of such entertainment or gifts must be within a reasonable amount by reference to socially acceptable standards.
Act on the Protection of Personal Information and PrivacyMark
Given the remarkable progress in information technology in recent years, businesses can now readily process and use vast amount of personal information in many ways. Amid such a situation, it is becoming increasingly important to protect personal information in today's highly information-oriented society. Against the backdrop of a series of personal information leakages that businesses have suffered, we have obtained the "PrivacyMark" certification with the aim of retaining a thorough data management system to protect our clients' and employees' personal information. Under the certification, we take appropriate measures to protect the data through a continuous personal information protection management cycle.
We are committed to delivering secure and reliable services to our clients by maintaining and upgrading our services.
PrivacyMark Certification
transcosmos obtained "PrivacyMark" certification on February 5, 2003.
Visit here for our Personal Information Policy.

Certification Number

11820183(10)

Certification Start Date

February 5, 2003 - (renewed every 2 years)

Certifying Agency

Japan Information Technology Services Industry Association (JISA)

Conferring Agency

Japan Institute for Promotion of Digital Economy and Community (JIPDEC)

Certified Private Information Protection Corporation

Japan Institute for Promotion of Digital Economy and Community (JIPDEC)
The PrivacyMark System is operated by a general incorporated foundation JIPDEC. JIPDEC and its designated institutions evaluate the handling of private information, and a management system used by a business in a fair and neutral manner, from a third-party standpoint. The PrivacyMark system follows the Japanese Industry Standard "Personal information protection management – Requirements" (JIS Q 15001) which establishes a rigorous set of rules and procedures for the securing of personal information. Based on eligibility and qualifications, businesses that meet the requirements of these rules and procedures may use the PrivacyMark logo.