Business Description


Business Description
Our company's group provides outsourcing services to comprehensively and globally support sales expansion and cost optimization as a business partner of our clients.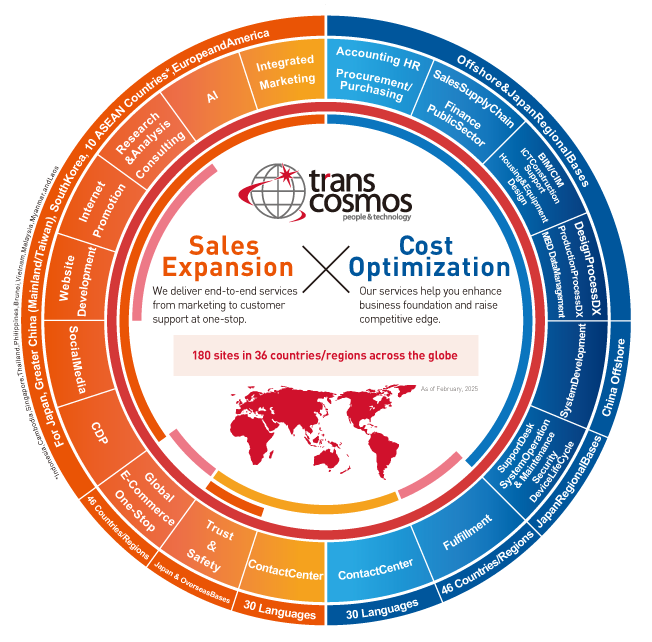 Contact Center Services
Offering outsourcing services for customer support operations such as dealing with inquiries and complaints from customers, informing on products and services, and supporting marketing and sales.
Features of service
Largest contact center service provider in Asia, focusing on Japan, China and South Korea
Offering the largest contact center services in Japan with 21 bases and about 14,000* seats in Japan as well as 26 bases and about 7,000* seats overseas
Business experience in many industries, including financial, telecommunication, high-tech, medical, cosmetics, distribution, automobile and airline, as well as in the public sector
Established Shibuya Social Media Center, one of the first in the industry, which specializes in customer support for social media
*As of May 31, 2015


Business Process Outsourcing Services
Outsourcing services to support the non-core operations of companies include the following: back-office operations, including accounting/finance, and human resources; order placement services; operation and maintenance of IT systems; mechanical, architectural, and other design operations.
Features of service
Established the largest off-shore service system for Japan (China, Thailand, Vietnam, Indonesia and The Philippines 18 bases*)
Offering services in a wide range of areas: systems development/operation, order processing, architectural design, mechanical design, embedded systems development, data input, human resources/general affairs/accounting/back-office
Established off-shore development system in China in 1995 before the rest of the industry
Time-tested wealth of experience (49 years in business, one of the longest in the help-desk industry)
*As of May 31, 2015


Digital Marketing Services
Supporting marketing activities, which make use of Internet infrastructures and offering Internet promotions, website design and operations, omni-channel marketing, analysis and research services, among others.
Features of service
Digital marketing service provider focusing on Japan, China and South Korea
Established one-stop support system which includes all services from Internet promotion to website design and operations
Established system to provide the largest website design and operations in Japan (Over 2,300 staff in Japan*)
Actively introducing the latest ad technology through our business development base in San Francisco
*As of May 31, 2015


E-Commerce One-Stop Services
Based on the corporations' E-commerce business strategy and branding strategy, transcosmos provides various services necessary for E-commerce business such as E-commerce site design and operations, fulfillment, customer care, web promotion, and analysis, in one-stop.
Features of service
Offers services in 45 countries worldwide, such as Japan, the U.S. and Europe, China, South Korea, ASEAN, India and South America
Fuses various services and experiences with over 35,000 specialized staff members, such as own hub-style E-commerce platform "transcosmos eCommerce HUB," contact center, Business Process Outsourcing (BPO), and digital marketing
Enables E-commerce business development specific to the target markets' cultures and characteristics, through partnerships with European, American, Chinese, and South Korean major corporations
In cooperation with the "top players" of the ASEAN market in apparel and electronic books, transcosmos supports E-commerce expansion into the ASEAN market


Domestic & Overseas Offices
The outsourcing services offered in Japan are also being developed in Asia, focusing on China and South Korea. We are supporting development including overseas market penetration by Japanese companies, as well as Japanese market penetration by foreign companies.